This easy crochet slouchy hat is simple, adorable and easily customizable-and so it belongs in my very popular "Crochet Basics" series.  These free crochet patterns are written to be super simple so that they are perfect for beginners!  This hat is made with a simple rectangle, and it uses less than one skein of yarn so it is a great stash buster. Keep reading for the free crochet pattern.
Easy Crochet Slouchy Hat Pattern in 4 Sizes
You will notice that my Double Crochet Hat pattern is written in 10 sizes-and the Simplest Slouchy Hat is only written in four. Why is that? A few reasons.
Slouchy hats probably don't work the best for babies with no head control, so I eliminated the smallest sizes. This pattern starts to fit right around the 12 month mark.
Slouchy hats are super forgiving! It doesn't really matter exactly how long they are (as opposed to the exact fit we try to get with a beanie). This means there is a lot of wiggle room with the sizing!
I have included finished measurements for each size so that you can decide which is best for your project.
An Easy Crochet Slouchy Hat Made from a Rectangle
When it comes down to it, though, this hat is essentially made from one crocheted rectangle. That mean's you can make any size you want - even if you don't use my exact stitch counts! Just follow my step-by-step assembly instructions below, pick (or make) a pom pom and you are good to go.
Show off Your Crochet Projects
Don't forget to share pictures of your projects with me in my Facebook Group or by tagging @leftinknots on Instagram. I can't wait to see what you make!
Supplies:
Abbreviations:
Ch: chain
sl st: slip stitch
HDC: Half double crochet
BLO: back loop only
Gauge
8 rows x 16 sts = 4" square
Finished Size:
Diameter/Length (not including pom pom)
Infant: 7"/11"
Toddler: 8"/12.5"
Child: 9"/14"
Adult: 10"/15.5"
Pattern Notes
Chain stitches at the beginning of rows do not count as a stitch
This pattern is very forgiving in size and can be easily adjusted. 2 rows adds or subtracts 1" from the circumference. The length can be adjusted by adding or subtracting ch sts from your foundation row.
Instructions
Ch 43, 49, 55, 61 (Infant, Toddler, Child, Adult)
Row 1: HDC in second chain from hook (42, 48, 54, 60)
Row 2: Ch 1, HDC in BLO across.
Continue crocheting back and forth in rows until you reach your desired size:
Infant: 32 rows
Toddler: 36 rows
Child: 38 rows
Adult: 40 rows
You essentially just crocheted a rectangle. Fold the rectangle so that the first and last row are touching. Working through both layers, sl st across to seam the rows together (forming a large tube). Tie off yarn leaving a long tail.
Use your tail and a yarn needle to weave the yarn in and out of the top edge of the hat. Pull tight to cinch the top of the hat shut and tie off.
Make a pom pom and attach it to the top of the hat. Weave in all ends. The bottom of the hat can be cuffed or not depending on your preference.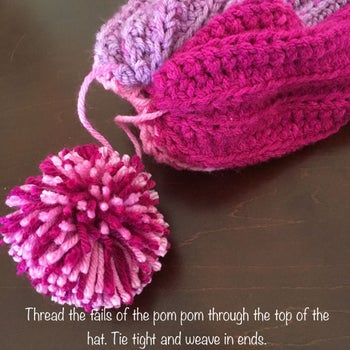 That's it! That's the whole simple and stylish pattern. It is so easy, and the results are so cute!
More Free Crochet Patterns You'll Love
Find all FREE CROCHET PATTERNS here
Now the legal stuff...You may sell items made from this pattern, but please credit me as the original designer. Also, please do not share the written pattern in print or electronically. The photos on this webpage belong to Megan Meyer of Left in Knots and may not be used for product sales/product listings. You may share a link back to my blog if you would like someone else to see or work with this pattern. Thank you for your cooperation and if you have any questions please feel free to contact me!
This post contains affiliate links. Thank you for supporting free patterns and yarn deals from Left in Knots!