Use just one skein of yarn to make this crochet pocket scarf. Add optional fringe as a finishing touch. I hope you enjoy the free crochet pattern for the Snow Drift Pocket Scarf!
A Trendy Pocket Scarf Made with Just One Skein
Have you jumped on the pocket shawl wagon yet? Every once in a while, there is a wide spread crochet trend and this season it so happens to be the pocket shawl. In this interest in keeping this project true to the foundation of Seven Days of Scarfie (basically one skein of yarn or less), I modified the idea of a pocket shawl and instead made a cozy pocket scarf!
Seven Days of Scarfie Collection #5
This pattern is part of my Seven Days of Scarfie pattern collections. Whether you are new to Seven Days of Scarfie or you have been making along with me every single year; I am so happy you are joining in the fun! Seven Days of Scarfie started on a total whim in 2016, and I have gotten so much positive feedback on the patterns that I just keep going with it every year.
I hope that you love each of these pattern collections as much as I do!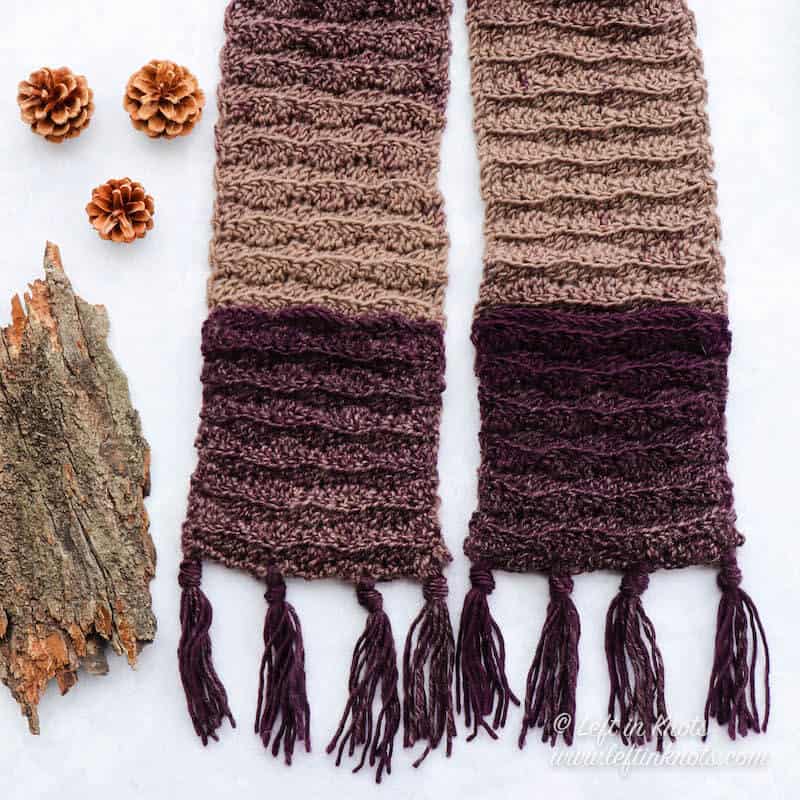 The result is this super easy to make scarf with all the texture. I used every bit of one skein of Scarfie yarn to make the Snow Drift Pocket Scarf so be sure to cut your fringe ahead of time if you want to make your scarf the same length as mine.
Show off Your Crochet Projects
Don't forget to share pictures of your projects with me in my Facebook Group or by tagging @leftinknots on Instagram. I can't wait to see what you make!
---
Snow Drift Pocket Scarf - Free Crochet Pattern
Supplies:
Abbreviations (written in U.S. terms):
sl st: slip stitch
ch: chain
BLO: back loop only
SC: single crochet
HDC: half double crochet
DC: double crochet
Related Video Tutorials
How to Crochet in BLO - Right Handed (find the Left Handed version of this video here)
Gauge:
not important
Finished Size:
Length: 73" before folding pockets
Width: 6.25"
Pattern Notes:
The chain stitches at the beginning of each round do not count as a stitch.
Increase or decrease the size of your starting chain in increments of 5 if you would like to alter the finished size.
I used exactly an entire skein of Scarfie yarn to make this scarf. If you want to add fringe I would recommend making it first and setting it aside to guarantee you have enough yarn for it.
Instructions
*If you love Seven Days of Scarfie and want to help me in a very simple way - I would appreciate any and all Pins or Ravelry saves! It helps me out so much! Thank you 💜
ch 21
Row 1: SC in second ch from the hook, SC, HDC, DC in 2, HDC, *SC in 2, HDC, DC in 2, HDC, repeat from * one more time, SC in last 2 sts (20). Turn.
Row 2: ch 2, DC, BLO DC, BLO HDC, BLO SC in 2, BLO HDC, *BLO DC in 2, BLO HDC, BLO SC in 2, BLO HDC, repeat from * 1 more time, BLO DC, DC (20). Turn.
Row 3: ch 1, SC, BLO SC, BLO HDC, BLO DC in 2, BLO HDC, *BLO SC in 2, BLO HDC, BLO DC in 2, BLO HDC, repeat from * 1 more time, BLO SC, SC (20). Turn.
Row 4- Row 129: Repeat Row 2 (on even rows) and Row 3 (on odd rows).
Tie off yarn. Fold pockets to the desired size and, using a long length of yarn, sew the edges of of the overlapped scarf to create the pockets. Make and attach fringe if desired. Please see my notes on fringe above.
More Free Crochet Patterns You'll Love
Find all FREE CROCHET PATTERNS here
Now the legal stuff...You may sell items made from this pattern, but please credit me as the original designer. Also, please do not share the written pattern in print or electronically. The photos on this webpage belong to Megan Meyer of Left in Knots and may not be used for product sales/product listings. You may share a link back to my blog if you would like someone else to see or work with this pattern. Thank you for your cooperation and if you have any questions please feel free to contact me!
This post contains affiliate links. I receive a small commission for any purchases made through these links at no additional charge to you.