Crochet the Candied Ginger Beanie with the spiked V-stitch and one skein of yarn. This easy beanie has tons of texture and works up quickly using Lion Brand Scarfie yarn. Keep reading for the free crochet pattern.
A Light Weight Crochet Beanie Made with Scarfie Yarn
One of my favorite things about Scarfie yarn is that it is so light and lofty. I especially love using it in crochet patterns like this Candied Ginger Beanie because it creates a light weight piece that still packs all the warmth you need for winter.
Seven Days of Scarfie Pattern Collection #6
This pattern is part of my Seven Days of Scarfie pattern collections. Whether you are new to Seven Days of Scarfie or you have been making along with me every single year; I am so happy you are joining in the fun! Seven Days of Scarfie started on a total whim in 2016, and I have gotten so much positive feedback on the patterns that I just keep going with it every year.
I hope that you love each of these pattern collections as much as I do!
A Crochet Beanie with a Matching Scarf
If you have been following my Seven Days of Scarfie pattern event for a little while; you may recognize the look of this beanie. Last year I designed the Candied Ginger Infinity Scarf and I loved it so much that I had to make a coordinating hat to wear with it.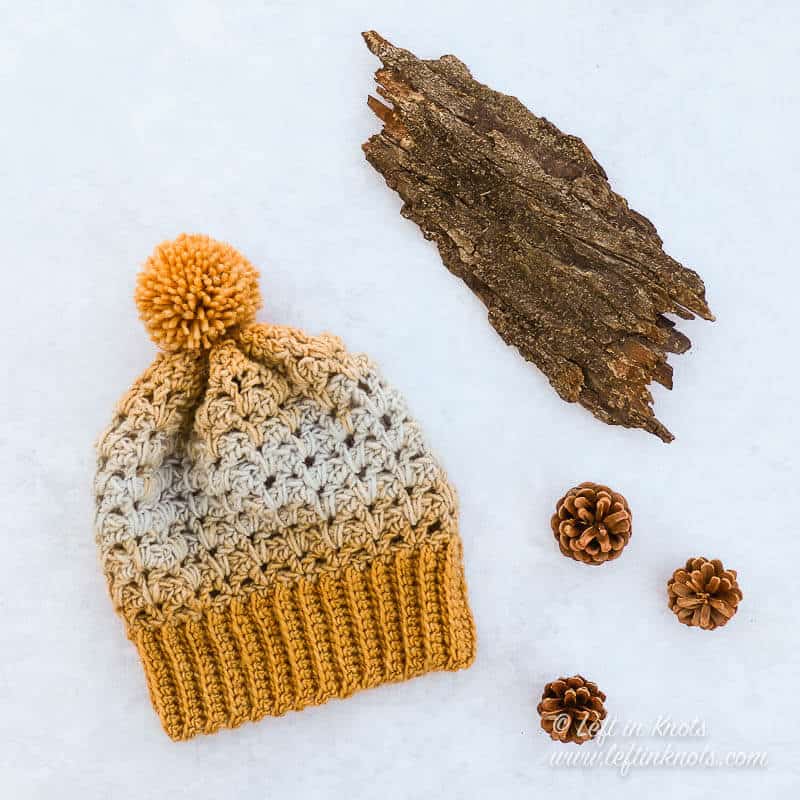 Show off Your Crochet Projects
Don't forget to share pictures of your projects with me in my Facebook Group or by tagging @leftinknots on Instagram. I can't wait to see what you make!
Candied Ginger Beanie - Free Crochet Pattern
Supplies:
Abbreviations (written in U.S. terms):
ch: chain
sl st: slip stitch
sk: skip
BLO: back loop only
SC: single crochet
HDC: half double crochet
HDC2Tog: half double crochet two together
DC: double crochet
DCSV: Double crochet spike v-stitch
Special Stitch:
Double Crochet Spike V-Stitch: (DC, ch 1, DC) while inserting your hook one row below your next st space.
Related Video Tutorials
How to Crochet the Spiked V-Stitch (right handed video loads with the page)
Gauge:
7 sts x 7 rows = 2" square in BLO SC
Finished Size:
Length (adult): 9.5"
Width (adult): 8.5"
Pattern Notes:
The chain stitches at the beginning of each row/round do not count as a stitch.
The end of each round is attached to the first st of the round with a sl st.
In this pattern, DCSV stitches will always be working into the ch space of the v-stitch two rows prior.
Instructions
*If you love Seven Days of Scarfie and want to help me in a very simple way - I would appreciate any and all Pins and Ravelry saves! It helps me out so much! Thank you 💜
Bottom Ribbing - Working in rows
ch 13
Row 1: SC in the second ch from the hook and SC across (12). Turn
Row 2-57: ch 1, working in BLO, SC across (12). Turn.
When you finish the ribbed band, fold it so that Row 1 and 57 are on top of one another. Working through the back loop of Row 57 and the front loop of Row 1, seam the two rows together by slip stitching across. Do not cut your yarn. Continue on to work in rounds along the "raw" edge of ribbed band.
Top of Beanie - Working in turning rounds
Round 1: ch 1, SC around the top of the band working one stitch per row (57). Attach to first SC of the round with a sl st.
Round 2: ch 2, sk 1, *(DC, ch 1, dc), sk 2, repeat from * 16 more times, (DC, ch 1, dc), sk 1.
Round 3: ch 1, HDC around.
Round 4: ch 2, sk 1, DCSV, *sk 2, DCSV, repeat from * around.
Round 5-16: repeat round 3 (on odd rounds) and 4 (on even rounds)
Round 16: ch 1, *HDC2Tog, HDC, repeat from * around (38)
Round 17: ch 1, *HDC2Tog, HDC, repeat from * around (19)
Tie off leaving a long (approx. 12") tail of yarn. Using a yarn needle, weave the yarn back and forth through the stitches of Round 17. Pull tight to cinch the top of the hat closed. Make and attach a pom pom if desired. Weave in all ends
More Free Crochet Patterns You'll Love
Find all FREE CROCHET PATTERNS here
Now the legal stuff...You may sell items made from this pattern, but please credit me as the original designer. Also, please do not share the written pattern in print or electronically. The photos on this webpage belong to Megan Meyer of Left in Knots and may not be used for product sales/product listings. You may share a link back to my blog if you would like someone else to see or work with this pattern. Thank you for your cooperation and if you have any questions please feel free to contact me!
This post contains affiliate links. I receive a small commission for any purchases made through these links at no additional charge to you.